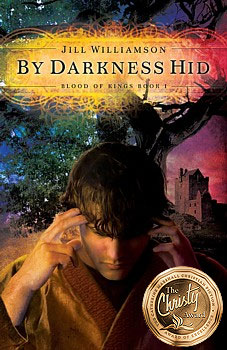 Hey Guys. Great news for Marcher Lord Press, and in particular, Jill Williamson. Jill's novel By Darkness Hid has won a Christy Award. Not only nominated, but won. Astounding. What a feat. Congratulations to Jill! I'm here to brag on her a little bit.
There are good reasons for this. Jill's created an expansive world with characters you'll care to root for and pull against; a world that rings true from the first page to the last, including its fantasy elements. 
But there's more to it for me. Jill is able to compose complex scenes in a manner that I've rarely seen. I'm talking about big scenes with multiple characters engaged in intricate dialogues and intrigue, or battle scenes written so well they simply appear fully-formed in the mind's eye of the reader. And keep and eye out for the banquet scene…it's a work of art.
Again, congratulations, Jill. This one's deserved.
Purchase By Darkness Hid here.
BTW- If you were not aware of this already, it means you're not receiving the WhereTheMapEnds newsletter, hosted by The Areopagus's own MS Quixote. Sign up for it here and receive an exclusive (and fun) free gift: "The Horrific But True Psychological Phases of Writing a Novel."