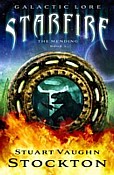 I'm honored to be grouped with two other Marcher Lord Press novelists for the second MLP release, scheduled for Wednesday, 4/1/09. Here are the opening lines from Stuart Stockton's new release, Starfire:
In the time of the mending, when the broken paths become whole again, one saurn shall rise out of his place. Unto this saurn shall be given the fate of the mending. He shall destroy the eye and reap a time of blessings and joy, or he shall call down the fire of the stars and sow war and sorrow upon the paths.
Stuart Vaughn Stockton is a Web designer for Cook Communications in Colorado Springs. He is a well-known author among the ACFW crowd, thanks in part to the fact that Christian novelist Brandilyn Collins based a popular character in her Kanner Lake series on Stuart! She needed an aspiring novelist working on a bizarre science fiction, and Stuart's non-human, non-earth novel in progress (Starfire) fit the bill.
Meet Stuart, and read the first chapters of Starfire, at the following link: http://www.marcherlordpress.com/Stuart%20Stockton.htm